Belonging
We covered the problems with Karmarama's new army advert way back in January ('This is Belonging') pointing out it was organised violence as an antidote to anomie, invasion as response to crisis of community.
But it is also about an attack on boys and an exploitation of poverty.
As Duad Alakbarov reported for Bella last year:
"The armed forces continue with their policy of targeting their school visits excessively to schools in deprived areas and children from low-income families, the Department of Education ignores the UN's recommendations that some form of peace education should be part of the curriculum in UK state schools, and supports initiatives encouraging a military ethos. According to ForcesWatch report, the armed forces recorded 1783 visits to 377 Scottish education institutions. 1455 visits were to 303 Scottish state secondary schools, of which 42% were made by the Army, 31% by the Navy and 27% by the RAF during the academic years of 2010-11 and 2011-12. This equates to an average of two visits per year for every state secondary school in Scotland."
We're glad to see the Guardian and CommonSpace this week reporting on the exploitation:
"Army chiefs insist they do not specifically target poorer people from deprived areas, but seek out talented and motivated youngsters of all social classes from across the country. However, the charity Child Soldiers International, which obtained the briefing document, said the strategy set out in them clearly showed this was not true.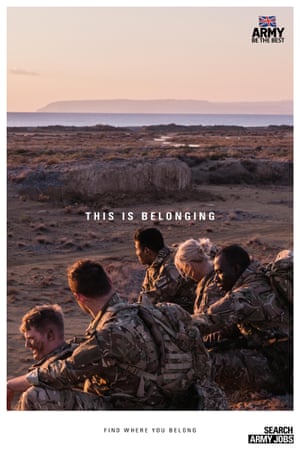 Rachel Taylor, the charity's director of programmes, said: "What's very clear from the document is that the army is deliberately and strategically targeting young people from deprived backgrounds who have limited options in life.
"It's not about presenting the military as one of many options. It's about exploiting people who don't have a lot else going for them and taking advantage of that lack of opportunity to fill the ranks usually for the most dangerous and badly paid roles."
The focus on 16 year-olds is very specific and very intentional.
Taylor continues: "There's a reason why 16-year-old boys are a great target for recruitment. At that age adolescents are primed into risk-taking behaviour, into wanting to prove themselves as a man, into wanting to establish an identity, a sense of belonging, which is really played upon in the current advertising campaign. Teenage boys want to take risks; they are lured in by the romance, the glamour, the danger. The marketing strategy very cynically takes advantage of that."
It's a British version of what's going on in America.
In Chicago under plans by Mayor Rahm Emanuel a more extreme form of recruitment is being set up whereby high school pupils are to be forced to either be enlisted in the military, have a job, be enrolled in a gap-year program, or have a college acceptance letter before the Chicago public schooling system will give them their diploma.
This is taking the militarisation of young men to a new level.
"Find where you belong".